What we Know:
Birth Family Name: Levistein
Given Name: Karl
Birth Date/Place: 28 October 1882, Geisa
Death Date/Place: unknown
Date at Deportation: 60 years


Karl Levistein was born on 28 October 1882 in Geisa, Thüringen.  He was the son of Levy (1841-1925) and Rosetta (née Lang) Levistein.  Karl had at least three siblings who grew to adulthood: Ida, b. 1872; Jenny, b. 1876; Siegmund, b. 1878.
The Levistein family had lived in the area around Geisa since the 1770's. But Karl and his siblings left the town, part of the outward migration of Jews from Geisa that had started in the 1860s, reducing the number in the Jewish community from 180 to 130 in 1900. In 1904, Jenny left Geisa to marry Leopold Vogel in Kassel; they had two sons, Fritz and Paul. Siegmund married Rosel Rindsberg of Uehlfeld and moved to Nordhausen where he ran a cattle trading business. Ida's whereabouts are not clear.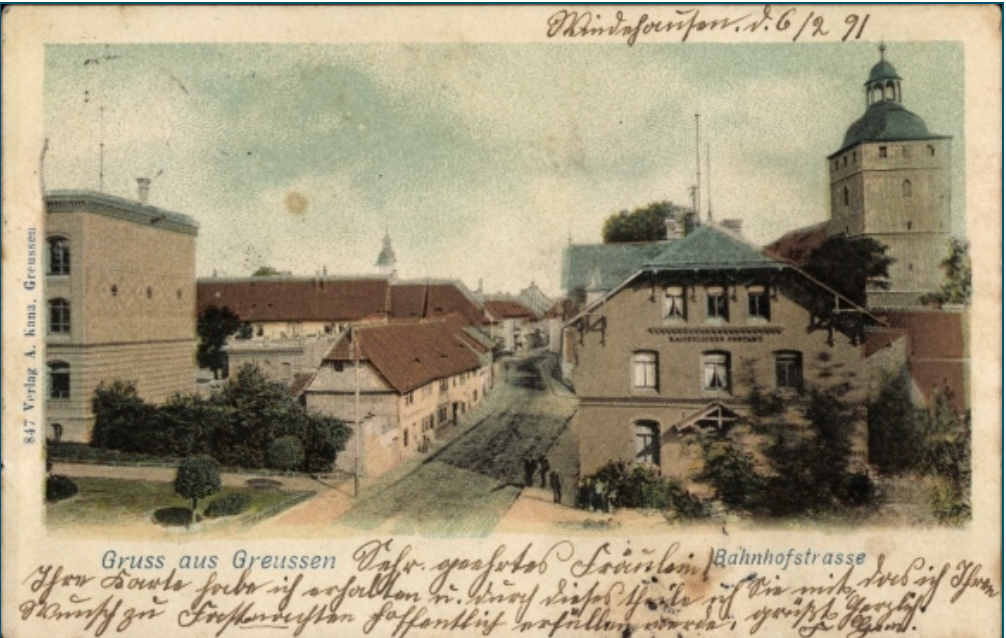 Karl moved to Greußen where he worked as a horse trader and lived at Bahnhofstr. 9. But we know little about his life: While there are military records for Siegmund Levistein in World War I, there is no evidence that Karl fought in the war. The deportation list tells us that he was single.
*****
When the Nazi regime began on 30 January 1933, the four Levistein siblings were in Germany. The two women successfully left Germany: Jenny Vogel left Germany for Palestine with her two sons, Fritz and Paul; when she left is not clear, whether it was before or after her husband, Leopold, died on 10 April 1938 in Berlin. On 18 May 1938, 65-year-old Ida Levistein received her visa to enter the United States and she left Hamburg in late August 1938. She was sponsored by a cousin.
Karl failed to leave although Ida did whatever she could to bring him to the States. On 26 January 1940, she opened a bank account for him, and on 28 March 1941, she deposited $425.00 to the National Refugee Service to sponsor his trip. But five months later, the money was refunded to her.deposits money.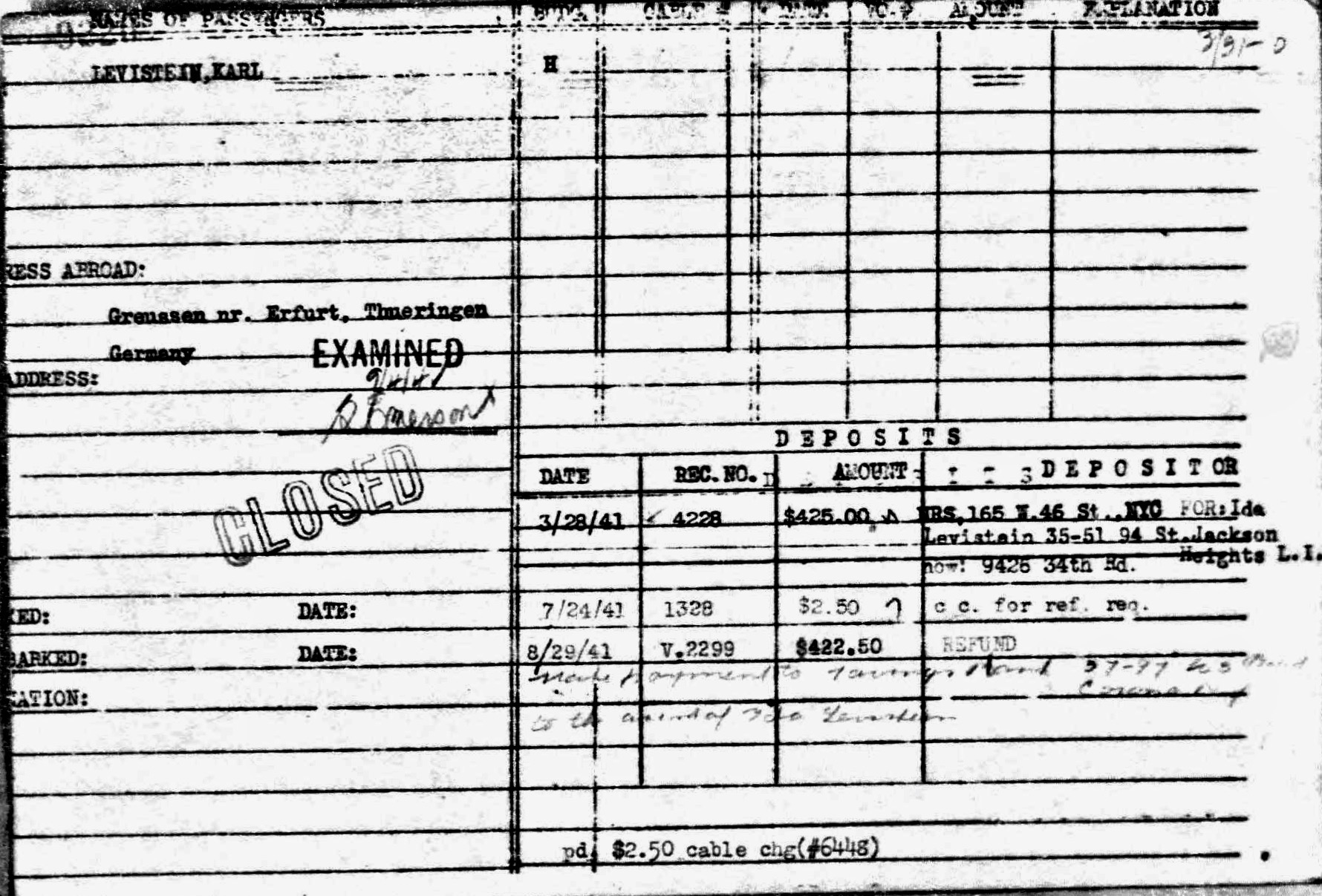 On the 10 May 1942, Karl Levistein was deported to Belzyce Ghetto. He was the only person deported from Greußen. However, his niece, 20-year-old Ursula Levistein, was deported from Nordhausen.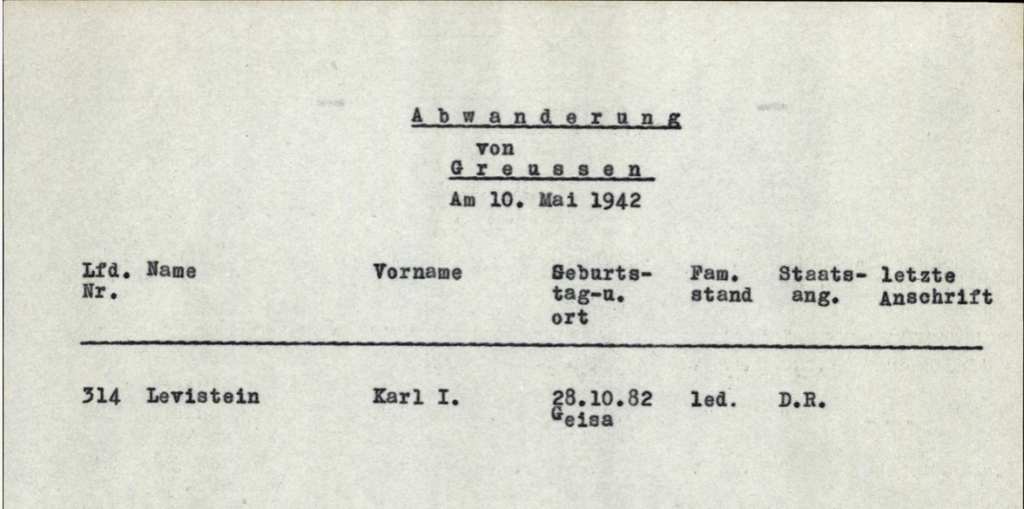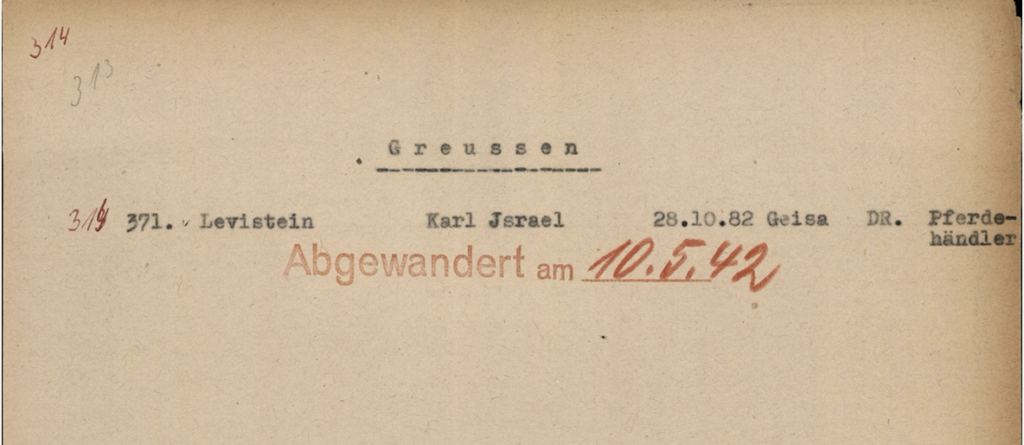 Karl's brother and sister-in-law (Ursula's parents) remained in Nordhausen until September when they were deported to Ghetto Theresienstadt. Siegmund died on 28 March 1943; Rosel was transported to Auschwitz on 16 May 1944 where she was murdered upon arrival.
*****
In April 1947, Jenny Vogel applied to have Ida come to Palestine to stay for 5 months. She wrote that she "was lonely and ill," that she and Ida had "not seen each other for 10 years, I beg to add," and that Ida was the only other survivor "from all my big family [which was] swept away by the nazis in Germany."
Her application was rejected. Ida Levistein died alone in New York in 1953.
Sources:
Ancestry.com. U.S., Jewish Transmigration Bureau Deposit Cards, 1939-1954 (JDC) [database on-line]. Provo, UT, USA: Ancestry.com Operations Inc, 2008.
Deportation von Juden aus Nordhausen
Contract of Siegmund u. Rosa Levistein to buy a home for themselves in Theresienstadt.