What We Know:
Family name: May
Given name: Albert
Date/place of birth: 1875, Trier, Rhineland-Palatinate
Date/place of death: Exact date of death unknown
Age: 67  years old at deportation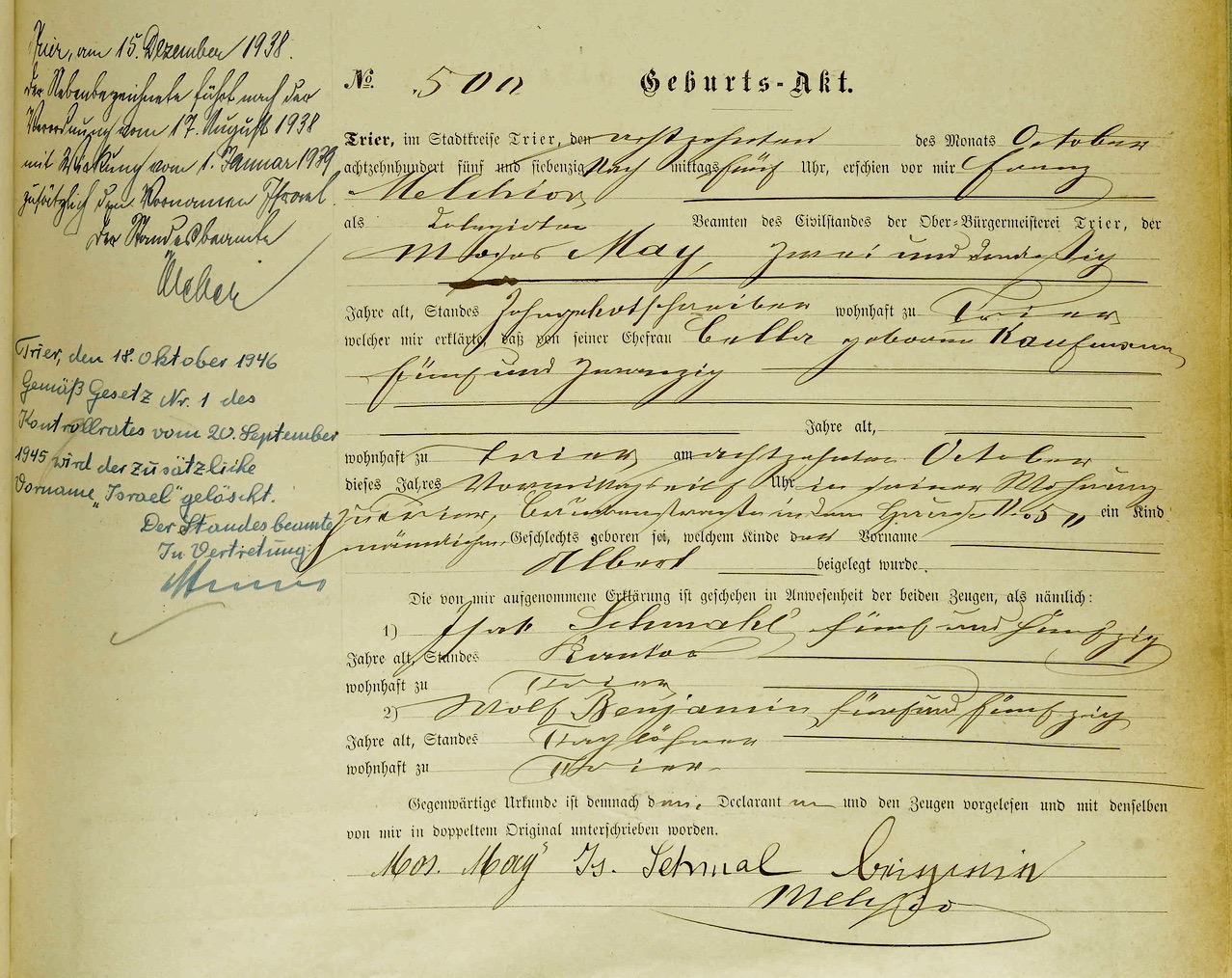 Albert May was born 18 October 1875 in Trier/Rhineland-Palatinate, to Moses May (1843-1912) and Moses's second wife, Bella Kaufmann (1850-1890). Records trace May ancestors back to 1813 and Nathan Mai/May of Raboldshausen in Hesse. Albert had a step-brother, Ferdinand (b. 1868), from his father's first marriage to Florina Hirsch; and then siblings Helene, b. 1874, Selma, b. 1884, Eduard May, b. 1885 who died as a teenager in 1901, and Hugo (birthdate unknown). Of Siegmund May, b. 1887, we know only his birthdate.
Albert married Emma Blumenthal, about whom we know very little other than that she was born on 13  August 1883 in Topolinken, a village in pre-World War I West Prussia. Emma was a German citizen even after the region fell to Poland with the terms of the Treaty of Versailles. There are no hints of the backstory to how Albert and Emma met or how they came to live in Eisenberg (in Thuringia). In 1909, their daughter, Margarete, was born in Arnstadt, about 90 km to the west of Eisenberg. Albert's army record of 1917-1918 identifies Eisenberg in Sachsen-Altenburg as his place of residence.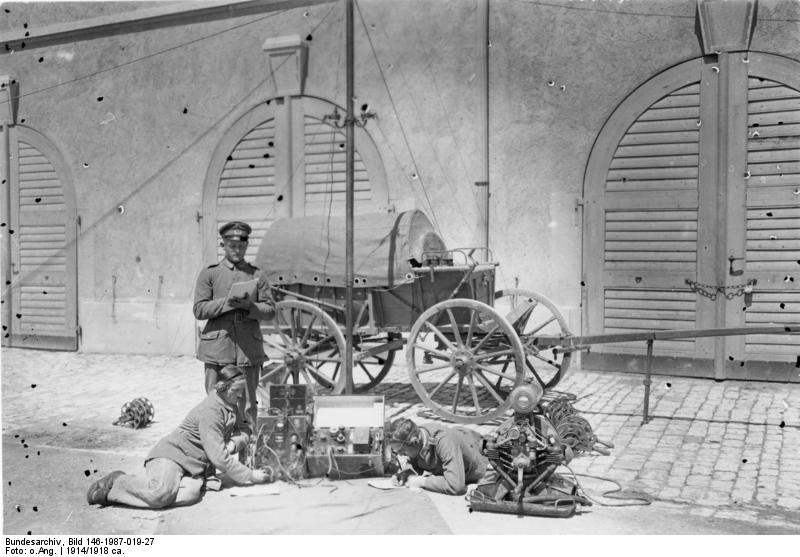 Albert and two of his brothers-in-law, Otto Levy and Albert Levy, joined the Bavarian army to serve their country in World War I. Both Otto and Albert were in the Landsturm-Infanterie-Bataillone, suggesting they were untrained soldiers. In 1917, Albert joined the newly formed (18 July 1917) Nachrichtentruppe/Signal Corps, which combined telegraph battalions, fortress and army signal units. "In addition to radio and telephone communications, newly developed teleprinters, carrier pigeons and heliographs were used for messaging. During the war, radio telegraphy took on increasing importance. For example, in 1915 teleprinters were first used by the air force, for artillery observation. In 1916, the first signalmen equipped with mobile radios were operating on the front line."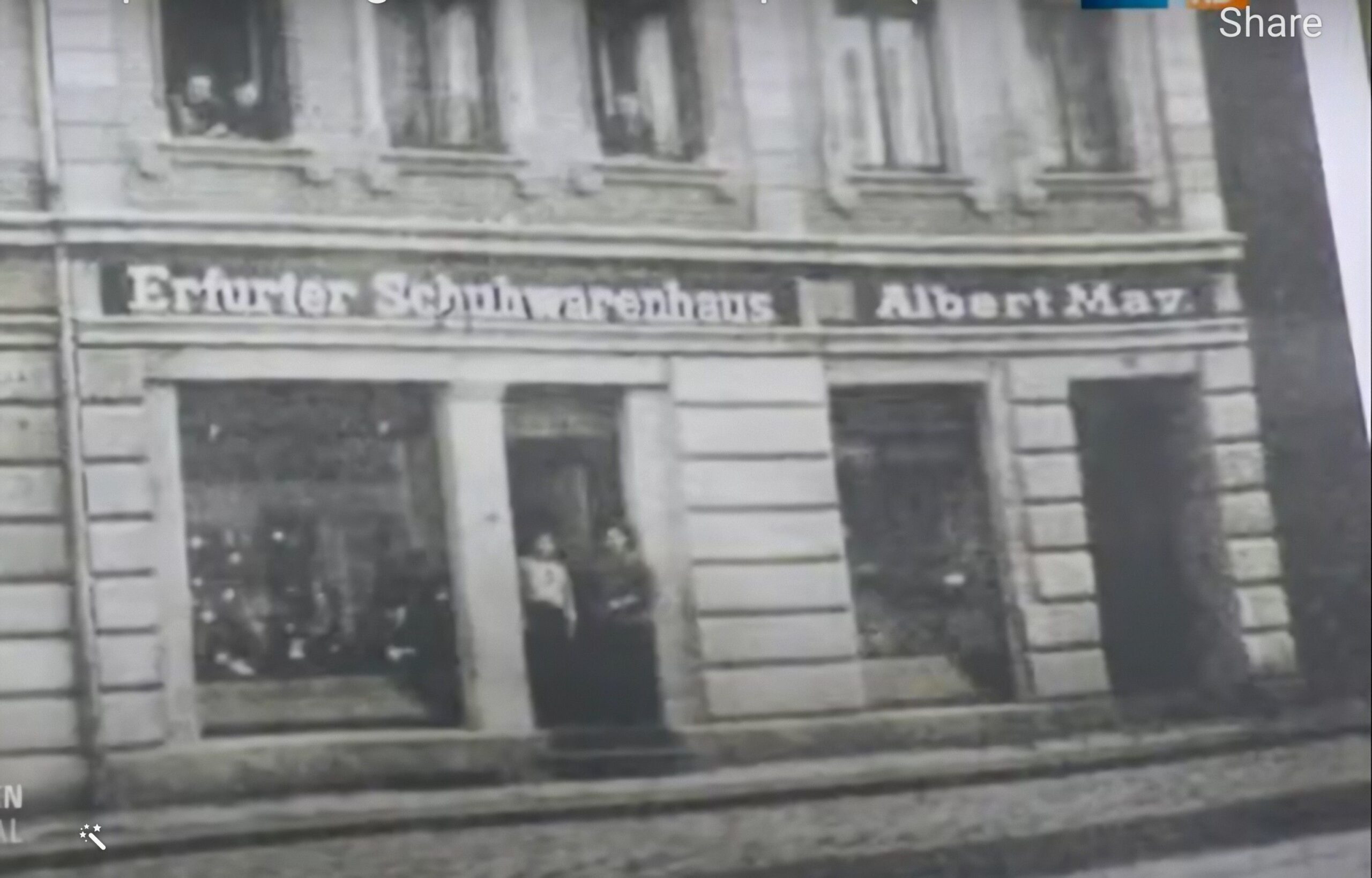 All three men returned from the war. Albert and Emma continued living in Eisenberg. We know the whereabouts of Helene, Selma, and Ferdinand, but not of Hugo or Siegmund. Helene and Selma had both married men with the surname "Levy" (they were not brothers). Helene and Otto had a son, Leopold, b. 1901. In 1925, Leopold married Käte Bamberg of Berlin. Selma and Albert had no children and, in 1927, they divorced in Vienna. Ferdinand May, Albert's step-brother, and his wife, Martha Grünthal, had a son in 1907, whom they named Ferdinand. Ferdinand Senior died in 1928 in Cologne.
*****
It is not clear where the May siblings were in January 1933, as the Nazi Regime began and only Albert and Helene leave documented traces. Margarete May was living in Eisenberg with her parents. She was pregnant and unmarried; on 30 September 1933, Manfred was born.
In late 1936 Margarete moved to Erfurt to work as a housekeeper for the family of Martin and Henriette Lamm. Albert and Emma cared for their grandson in Eisenberg; Manfred was too young to go to school so they would have had their hands full with parenting their a growing grandson and trying to survive the increasing persecution. Margarete lived in Erfurt until the end of July 1938.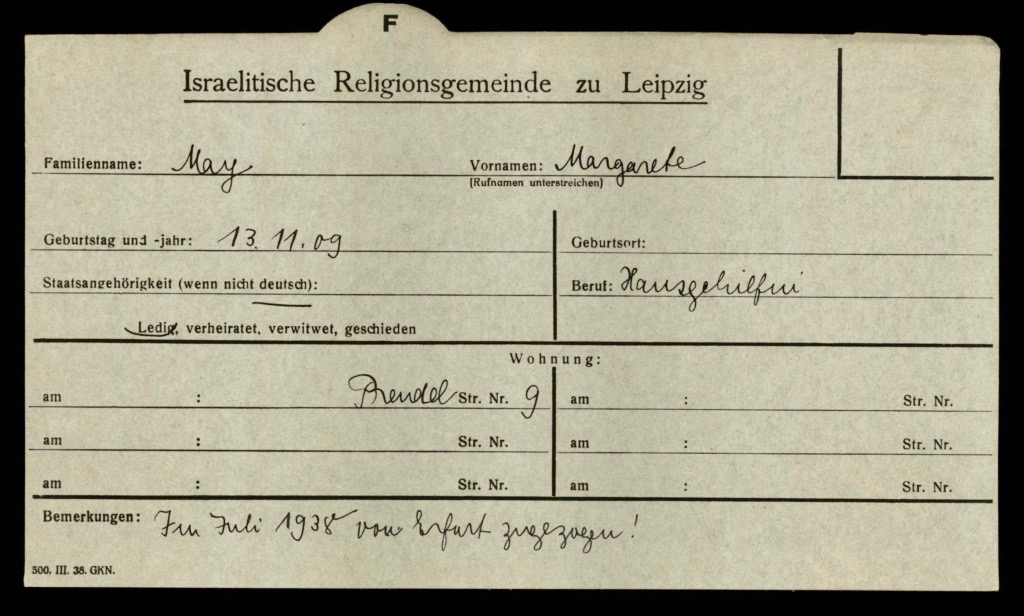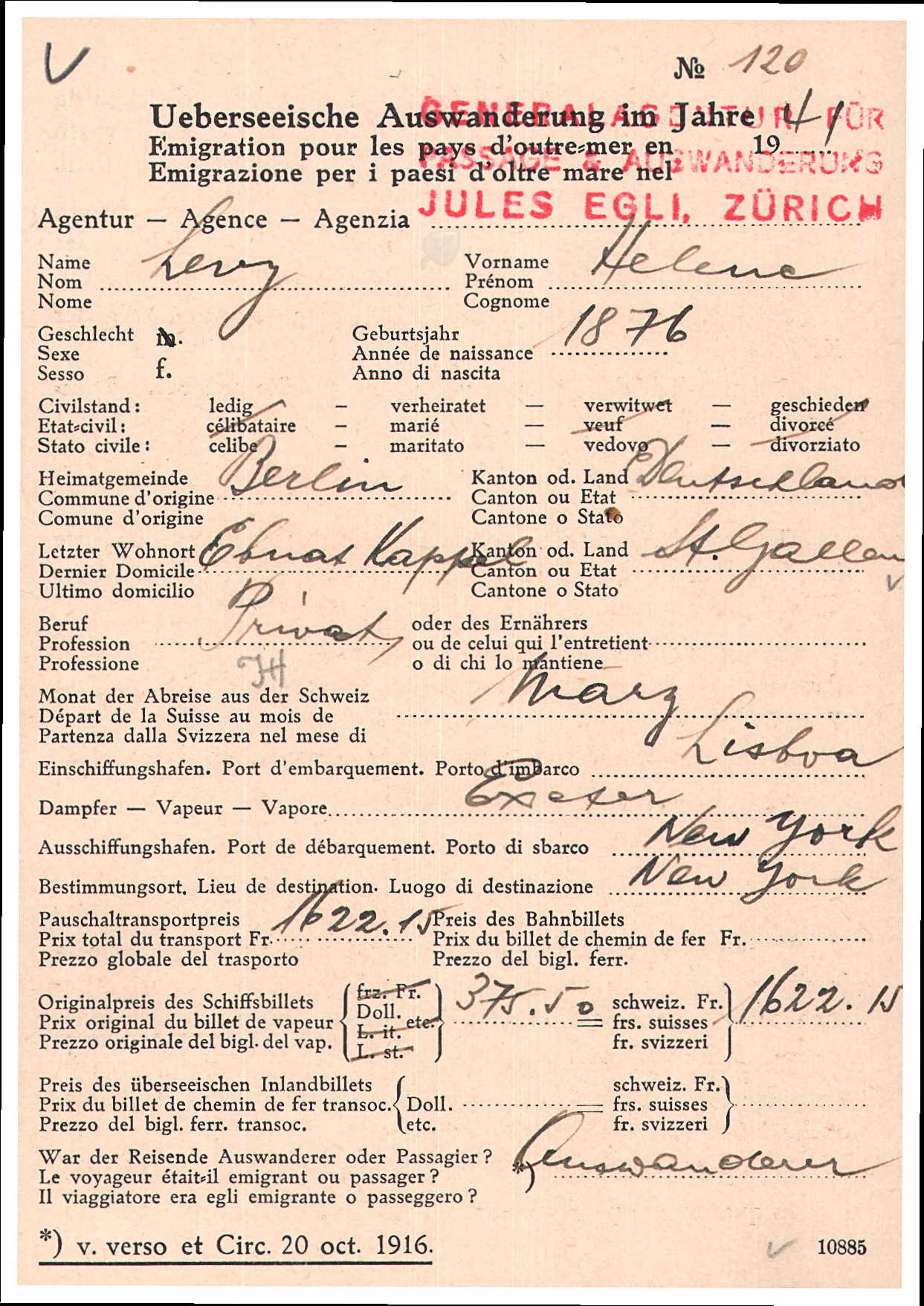 There is no evidence that the Albert and Emma applied for visas to leave Germany. Possibly Albert believed, as did many German Jewish men, that his service in World War I would protect him from Nazi persecution. We know that Helene and Otto Levy, together with their son Leopold and his wife, Käthe (née Bamberg) and their son, Werner, were able to leave Germany and Europe. They left Germany and went to St. Gallen in Switzerland. In late March 1941, they sailed from Lisbon to the United States en route to Ecuador.
Helene Levy identified her brother, Hugo May, living in Zurich, Switzerland, as the point of contact in country of her departure.
Albert May and his family were trapped in Germany: On 9 May 1942, Albert and Emma (née Blumenthal) May, their daughter Margarete and grandson Manfred May were deported from Eisenberg to Weimar and from there on to Belzyce Ghetto.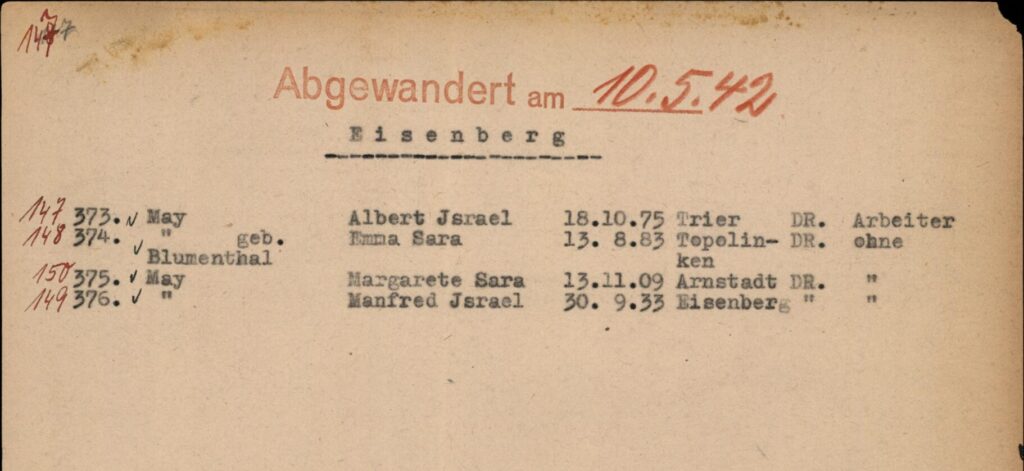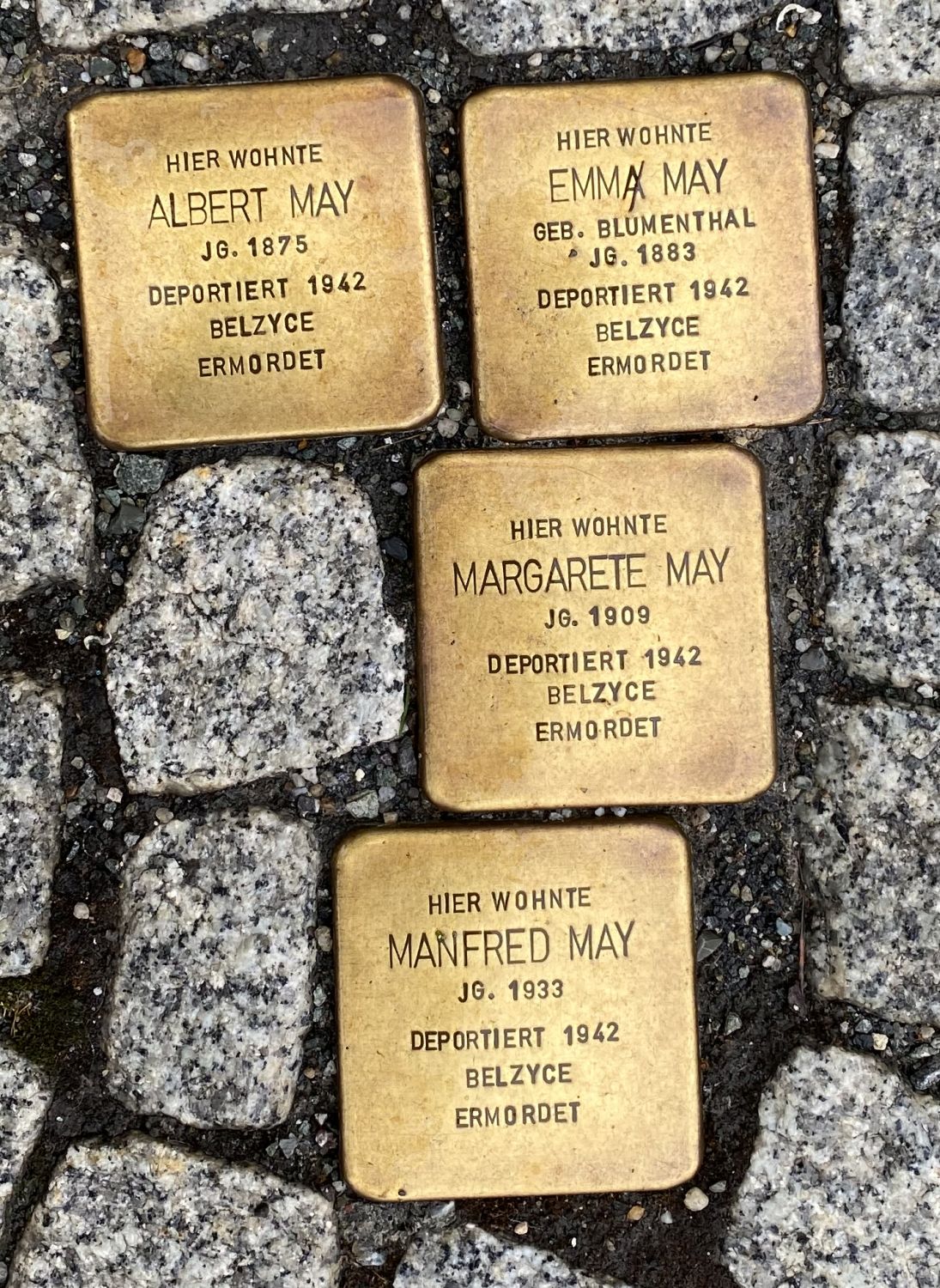 On 4 August 2014 Stolpersteine were laid in front of the house and shop am Großen Brühl 1 where the Mays had lived and worked in Eisenberg .
Sources:
Ancestry.com, About Bavaria, Germany, World War I Personnel Rosters, 1914-1918
David Nash, The German Army Handbook, 2008
Fotos: Hahn, Aufnahmedatum 11.6.2020