What we Know
Family Name: Marx
Birth name: Illfeld
Given name: Johannette, known as Jenny
Date/place of birth:  23. Juni 1888, Battenberg, Hesse
Date/place of death: unknown
Age: 54 years old at deportation


Johannette (née Illfeld) Marx, known as Jenny, was born on 23 June 1888 in Battenberg, Hesse, a small town with a Jewish community of about fifty-six (56),  The Illfelds had been part of this community since the mid-1700s. Jenny's parents, Salomon Illfeld (b. 1855)  and Franziska (née Speyer) Illfed (b. 1857 in Hatzbach/Hessen) had four children: two daughters,  Lina (b. 1882) and Jenny, and two sons, Abraham (b. 1885) and Jakob (b. 1890). Abraham died in 1918.
We have only traces of Jenny's life: a husband named Simon Marx and a daughter, Emmy, born in 1920. She lived in the city of Herne and town of  Beckum before coming to Aschenhausen. When she came to Aschenhausen, the Jewish community in the village had shrunk to only seven Jews. Jenny worked as a housekeeper for Adolf Kahn, chairman of the Jewish community, in House No 30.
In January 1933, with the establishment of the Third Reich, Jenny, her parents, her sister Lina, and her daughter Emmy were living in Germany. Jenny's father, Salomon, died in the first year of Nazi rule, November 1933, in Battenberg. The whereabouts of Jenny's brother Jacob and her husband Simon remain unknown.
Of the remaining family members,  all women, only one survived: twenty-year old Emmy, who immigrated illegally into Palestine in 1940. Emmy was aboard the SS Hilde to Palestine, and was arrested January 29th, 1940 in Haifa. Her arrest documents identify Simon and Jenny Marx as her parents and identify her as an 'Agriculturist.'
When the deportations began in October 1941, Jenny, her mother and sister were trapped in Germany. They were deported on separate transports: On 30 April 1942, 60-year-old  Lina was deported to Zamosc Ghetto in Lublin District. On 10 May 1942, Jenny, a widow and a housekeeper, according to the entries in the deportation list, was deported from Aschenhausen to Belzyce Ghetto. On 29 July 1942,  Franziska, age 85, was deported to Theresienstadt Ghetto: she died on 6 October 1942.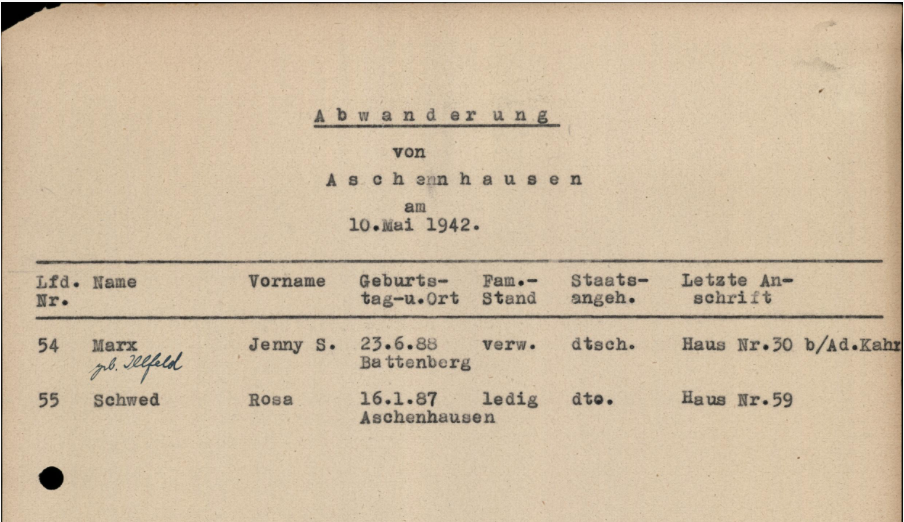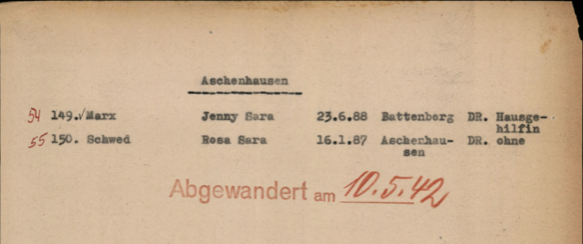 Quellen:
Sterberegister und Namensverzeichnisse. Hessisches Landesarchiv, Marburg, Deutschland, Europäische Union.